Posts for tag: orthodontics
By George Salem and Associates, PC
March 06, 2018
Find out how clear aligners could give you the straight smile you've always wanted.
Are you an adult who is sick and tired of having a crooked smile? Do you wish that you felt confident every time you opened your mouth to smile or speak? Perhaps you think it's too late to get that new and improved smile, but our Braintree, MA, dentists are here to tell you that it's never too late to consider Invisalign.
We know that once you reach a certain age, the idea of sporting a mouth full of metal seems like a ridiculous option for getting a straighter smile. That's why our Braintree general dentists offer Invisalign, which provide a clear orthodontic approach to improve common misalignments like crowding, gaps between teeth, overbites, and underbites.
Each aligner is made from clear, medical-grade plastic so they are nearly invisible when placed over your teeth. Each aligner must be custom made in order to provide you with the results you want. Before getting your aligners this means that we will need to take images of your mouth and use special computer software to help determine which teeth need to shift and how much they need to move in order to get your ideal smile.
From there, these specific tooth movements are mapped out and given to a special Invisalign dental lab, where they will make each individual aligner. Each aligner is designed to move teeth a specific amount, as determined by your individualized treatment plan.
In order to achieve the results you want does mean wearing your aligners as often as possible. While we know that it might be tempting to remove them, it's important that you wear them anytime you aren't eating, drinking (anything other than water), brushing, or flossing. Aim to wear your aligners for about 22 hours out of the day.
Aligners are usually worn for about two weeks at a time before being replaced with the next set of aligners in your treatment plan. The number of aligners each patient receives will depend on the severity of their dental issues. For example, someone who is only fixing minor crowding will have far fewer aligners than someone who has more moderate-to-severe gaps between teeth.
If you are a teen or adult in Braintree, MA, who is interested in getting Invisalign then it's time you called our office to schedule a consultation with us. Let's help you get the smile you know you deserve.
By George Salem and Associates, PC
February 25, 2016
For many people, getting braces is a right of passage endured and mercifully left behind in the early adolescent years, along with quasi-
existential angst and questionable hair and wardrobe experiments. Unfortunately, dental needs and realities can change, and the need for straight, adequately aligned teeth does not necessarily get resolved in the junior high years. Simply put, sometimes grownups need braces. Unfortunately, a mouth full of metal does not look nearly as adorable at a board meeting, or on a first date with a potential new love interest or possible life partner, as it does in an old yearbook picture.
Invisalign in Braintree
Thankfully for people who need to straighten their teeth, but do not want metallic braces, clear aligners offer the same results, without the practical and aesthetic issues that traditional braces can present for older teenagers and adults. The dentists at Braintree-based Dr. George Salem and Associates, PC help their patients get straighter teeth in a subtle, more natural looking way with Invisalign clear aligners.
How does Invisalign work?
Not only is Invisalign a more attractive and less invasive way to correct a smile, the process is incredibly easy and straight forward. A series of removable, clear aligner trays are custom designed for each patient. The trays, which are virtually invisible to the naked eye, are worn for up to 22 hours per day, and can be removed for up to two hours every day to brush and floss. Each tray is generally replaced for the next in the series after two weeks as the teeth begin to shift into the desired position. Invisalign makes it possible to discreetly straighten the teeth, without sacrificing regular oral hygiene practices, or a social life for 15 months!
Contact a Dentist in Braintree
To learn more about how Invisalign can help to repair your smile, and whether you are a candidate, contact a dentist at Dr. George Salem and Associates, PC at 781-843-0660 to schedule a consultation today.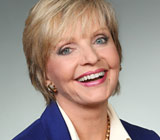 Florence Henderson has inspired generations of people through her portrayal of America's most beloved TV mother, Carol Brady, on one of the longest running situational comedies, The Brady Brunch. Today Florence is still a role model but for a much different audience: senior citizens.
Henderson created the FloH Club as an organization to assist senior citizens with understanding and embracing technology, as she described in an interview with Dear Doctor magazine. "I was inspired to create the FloH Club because of my own fear of technology and because I didn't want to keep asking my children for help," she said.
And while Henderson was blessed with naturally straight teeth and has had no cosmetic work done, she is not opposed to it. "I wouldn't care how old I was, if I had misaligned teeth or felt I needed cosmetic dentistry I would certainly do it!"
One teeth-straightening option many adults consider is clear orthodontic aligners. They are an excellent way for self-conscious adults to align their teeth without feeling that they will appear as an awkward "brace-faced" youth — a look that is commonplace for the teenage years.
But what are clear aligners? They are an alternative system to traditional braces that use a sequence of individual, custom-fitted trays that are clear and removable to gradually straighten teeth. They are usually recommended for correcting mild to moderate spacing problems or crowding of the teeth, and for cases in which there are no major issues with your bite (i.e., your back teeth fit together properly and biting forces are distributed evenly on all of your teeth).
To learn more about this method of aligning teeth, you can continue reading the Dear Doctor magazine article "Clear Orthodontic Aligners." Or you can contact us today to schedule an appointment so that we can conduct a thorough examination and discuss what treatment options will be best for you. And to read the entire interview with Florence Henderson, please see the Dear Doctor article "Florence Henderson."