Teeth Whitening, Porcelain Veneers, Dental Implants, Orthodontics, Lumineers®, Zoom® Whitening, and Dentures
Dr. George Salem and Associates is a multi-specialty group dental practice for all of your oral health needs.

Our practice is truly unique in the quality and thoroughness of patient care, the extraordinary conveniences that we provide and the extensive array of modern dental and esthetic treatments that we perform. We are the only practice in the region which combines meaningful services such as multiple specialists within our practice and the extensive availability of evening and Saturday appointments for your convenience. You will no longer need to be referred to other facilities in unknown locations or leave work in order to receive complete dental care.

Many of our specialists are board certified, making them some of the highest trained and most educated specialists in the nation. Specialists include our Orthodontist, Periodontist, Prosthodontist, and Endodontist.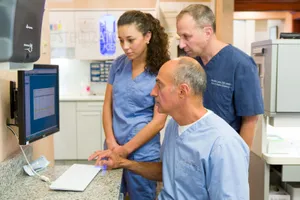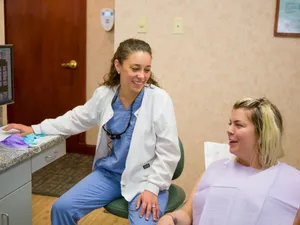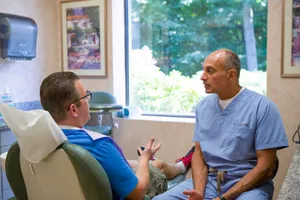 Our Specialists
Dr. Michael Kacewicz, Orthodontist
Dr. Mathew Lann, Periodontist
Regular dental visits are essential to make sure oral health problems from tooth decay to oral cancer are detected and treated in a timely manner. At our office, your oral health is our paramount concern. We want to make sure your teeth stay healthy, function well and look great! From regular cleanings and exams to advanced restorative treatments, all of your routine dental needs can be met right here.

Services
Services we offer include:
Emergency Dental Treatment
If you have a life-threatening or severe injury, call 911 or go directly to the nearest hospital emergency room. We can treat a variety of traumatic dental injuries, including teeth that have been chipped, moved, or knocked out entirely. Please call our office for assistance.
Facilities and Equipment
Digital Patient Records
Operating Microscope for Endodontic Procedures
Invisalign Invisible Orthodontics
Brite Smile Whitening
State of the Art Implant and Bone Grafting Procedures
Multiple Specialists all within our office
Personal video headsets allow you to watch one of our hundreds of movies during your treatments
Personal CD players allow you to listen to music during your treatments
Office Philosophy
Gentle, modern dental care for children and adults provided by a warm and caring staff in a friendly, relaxing atmosphere.
Appointments
We know that your time is important. That is why we do not "double book" appointments. When you reserve an appointment, we devote that time solely to you. Therefore, you may expect us to be on time for your treatment. So please arrive slightly early so that we may begin and end your treatment without unnecessary delay.
Insurance and Billing
We accept most traditional insurance plans, contact our office to verify acceptance of your plan. George Salem DMD does not participate in Health Management Organizations; however, we will be happy to file your insurance claims for you. We accept checks, cash or credit cards. We also offer a flexible payment plan. Please see our Financial Coordinator for details. We are happy to file insurance for your reimbursement as long as you are free to choose your own dentist.
Payment Options
We accept checks, cash or credit cards. We also offer a flexible payment plan. Please see our Financial Coordinator for details. We are happy to file insurance for your reimbursement as long as you are free to choose your own dentist.
---
Our Unique Services
We are a Zoom Teeth Whitening Center providing one-visit teeth whitening.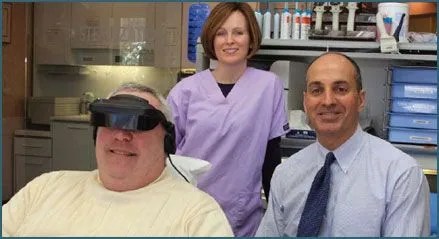 Virtual Image Video Glasses
High tech projection video eye glasses let you view your favorite movies or television shows during your dental treatment. Choose from hundreds of movies and TV shows through our Netflix® account.
Bose® Noise canceling headphones
Connect our state-of-the-art headphones to your music source or use our Spotify® or Pandora® accounts to hear only the music during your dental procedures
Intra-Oral Video Cameras
A miniature camera allows you to see your teeth on a TV screen. This modern device helps you to understand your dental condition and treatment options clearly and precisely.
Insurance Filing
We will be happy to research and verify your insurance coverage for you. We will also submit all of your insurance claims and keep track of your annual used and unused insurance benefits. This service alone saves our patients countless hours of tedious record keeping and helps to prevent overspending of your yearly insurance limit.
Emergency Care
Should you, your family, or friends ever require emergency care, please call us. We are happy to help.
We Are Leaders in Aesthetic/Cosmetic Dentistry

Before & After

Before & After

Before & After
Bleaching -- To make your smile its whitest and brightest!
Porcelain Veneers
Porcelain Crowns
Tooth-Colored (White) Fillings
The above pictures demonstrate the dramatic results that are possible with the modern dental treatment that we provide for our patients. All of the before and after pictures which appear on our website are actual cases completed by Dr. Salem and his associates.
We are leaders in these types of complex, esthetic smile makeovers as we have been providing these services for well over 15 years. We also care for patients with simple dental needs such as white fillings, cleanings and the most modern methods of teeth whitening.​
Implants
Dental implants are the most profound advancement in dental treatment in the history of dentistry. For the first time, patients may "turn back time" and replace the teeth that time, neglect or trauma has taken from them.
As one of the regions highest technology practices, implants are a common service in our practice. We are one of the few practices that are able to provide the surgical placement and the restoration of dental implants in one office. In our office, dental implants are a predictable, painless and long lasting way to replace missing teeth. In certain cases, we can actually remove a hopeless tooth, place an implant and a temporary crown in one visit.
We are one of the most experienced practices for the placement and restoration of dental implants. Dr. Salem has provided implant services for nearly twenty years.
Our office is truly unique in the quality and thoroughness of patient care, the level of patient service, and the extensive array of modern dental and aesthetic treatments. Our use of high technology, both for dental procedures and patient relaxation and comfort, are unparalleled in our field.