What to expect at your first dental visit
Your first visit to George Salem DMD establishes a vital foundation for our relationship with you. During the first visit, we make sure to obtain important background information, like your medical history, and give you time to get to know your doctor. To understand what to expect for your first visit to our practice, please read through this page.
Typically, the first visit in our office will be an Initial Oral Examination. This initial examination is certainly the most important appointment for a variety of reasons. First and foremost, it gives you the opportunity to inform us of your concerns. For some patients, their most important concern is the appearance of their teeth. For others, it is the health and maintenance of their teeth with the goal of preventing serious dental problems in the future. For yet others, it is all of the above. Because this information is vitally important in developing an appropriate treatment plan for you, you may expect us to listen to you very carefully.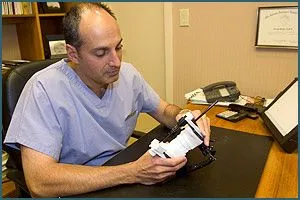 Secondly, it gives our doctors the necessary time to carefully evaluate all aspects of your oral health as well as your medical history. We will conduct a thorough examination for Oral Cancer, Gum Disease (Periodontal Disease), Tooth Decay, TMJ dysfunction and many other oral pathologies. Where applicable, we will take digital images of your teeth and display them on our operatory monitor so that you may see your teeth exactly as we do. This is a tremendous help to our patients in helping them to understand their dental conditions.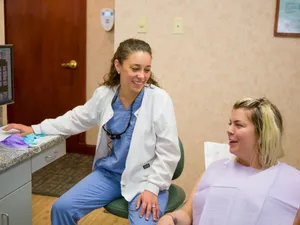 Equally important is the time that we then spend with you to explain various treatment options, their advantages, disadvantages and potential treatment outcomes. If an improved appearance is most important to you, we will likewise review various esthetic options, their respective advantages, disadvantages and expected results with you. That way, you can make the most appropriate decisions for your oral health and appearance. We offer every modern esthetic treatment under one roof. For example, our board certified orthodontist could carry out Invisalign orthodontics; we could then carry out BriteSmile® whitening, Lumineers® porcelain veneers and many other treatments all in one office. Also, our board certified periodontist could place an implant and because our restorative dentists practice in the same office, we can, on many occasions place a crown immediately following implant placement. We are one of the only practices in the region that can provide this extraordinarily high level of service.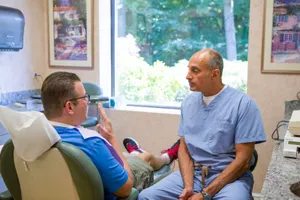 Have you ever wondered if you are using the proper toothpaste or mouthwash, or even the proper toothbrush? Or, how you can improve your breath? These questions concern a very important aspect of your oral health, called homecare. Indeed, proper home care can save you countless problems with your teeth and gums over your lifetime. Because home care is so important, our doctors will instruct you on a patient specific home care regimen at the end of your initial oral examination and if you desire, our registered dental hygienists will review these specific recommendations with you at every cleaning.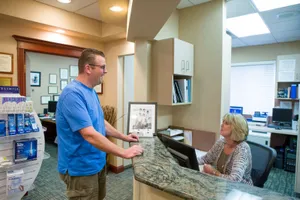 Lastly, we understand that extensive dental care can be a significant financial commitment. Therefore, we will also spend the time that you require to review costs, insurance contributions, patient fees and our many available financing programs, some with no interest. We are committed to helping patients to afford the high level of oral health that is so important in sustaining a high level of overall health.
As you can see, we have much ground to cover in order to carry out an excellent oral examination. As such, we devote an entire hour for this examination, and sometimes even more time for complex cases. I can assure you that our initial examination will be the most thorough, most educational and most meaningful examination that you have ever had.