Teeth Whitening in Braintree, MA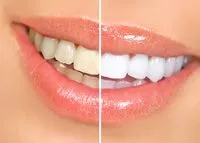 Dr. George Salem and our team offer safe and effective in-office and at-home teeth whitening that will get you the results you are looking for quickly. We have been providing the most modern whitening procedures as they have become available for more than 30 years. We have helped thousands of patients achieve their ideal smile brightness, and can help you as well!
Teeth whitening is a great option if you are unhappy with the color of your teeth due to age, smoking, coffee, tea, or if the natural color of your teeth has always been too dark, yellow, or gray.
Teeth whitening is easy, it's safe, it's inexpensive, and it works for everyone!
Zoom In-Office Teeth Whitening
Zoom teeth whitening is a professional teeth whitening treatment that is done right here in our Braintree dental office. It uses a special light and bleaching gel to remove stains and discoloration from the teeth. The procedure usually takes about an hour and can make teeth up to eight shades whiter.
During the treatment, we will apply a protective gel to the gums and then apply the Zoom whitening gel to the teeth. We will then use a special light to activate the gel and enhance its whitening effects. The gel and light will be applied to the teeth in three 15-minute sessions.
At-Home Teeth Whitening
At-home teeth whitening is a professional-grade teeth whitening kit that can be used in the comfort of your own home. It uses a special whitening gel and custom-fitted trays to remove stains and discoloration from the teeth. The kit includes a set of trays, whitening gel, and instructions on how to use it properly.
To use the at-home teeth whitening kit, you will first need to have custom trays made at our Braintree dental office. This involves taking impressions of your teeth so that the trays fit perfectly. Once you have your trays, you can apply a small amount of the whitening gel to the trays and then insert them into your mouth. You will wear the trays for a certain amount of time each day, usually for a week or two.
The whitening gel used in the Zoom at-home kit contains a lower concentration of hydrogen peroxide than the in-office treatment, which makes it safer and gentler on the teeth. However, the results may not be as dramatic as the in-office treatment.
After your teeth whitening treatment, you may experience some sensitivity to hot and cold temperatures, but this always subsides within a few days. Maintaining good oral hygiene, visiting Dr. George Salem and Associates for professional cleanings, and avoiding staining foods and beverages can help prolong your results and keep your smile bright.
How long will my teeth whitening results last?
How long your whiter smile lasts will depend a lot on you and how you care for your smile. We highly recommend staying away from foods and drinks that could stain your teeth including coffee, wine, tea, berries, dark sauces, and condiments. Furthermore, you want to maintain good oral hygiene and brush twice a day and floss daily to keep your smile looking vibrant. With the proper care, some people have noticed whiter results for up to two years.
Who is a good candidate for teeth whitening?
Those who have yellow surface stains will see the best results. Those with internal stains due to direct trauma or those who have severe stains due to smoking may not respond to professional teeth whitening. Furthermore, teeth whitening only works on natural tooth structures, and won't whiten dental work such as crowns or fillings.
Ready to get a whiter, more radiant smile with the help of professional teeth whitening? If so, call your Braintree, MA dentist Dr. George Salem and Associates, PC today at (781) 843-0660
to schedule a consultation with our team.