Our History
The History of our Braintree Dental Office
Dr. George Salem, more than just a dentist in Braintree, Massachusetts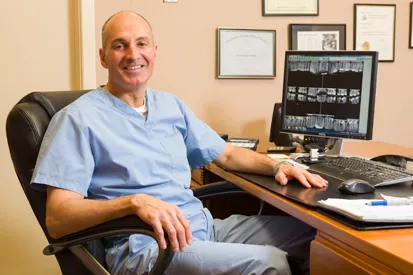 ---
Dr. Salem began practicing dentistry in 1984 in a large dental practice named Dedicated Dental Service. After five years, it was time to venture out and build a practice that was exceptional in every way, from the highest quality of care, to the most advanced technology, extraordinary service, uncommon conveniences and exceptional patient comfort. So, in January of 1989, Dr. George Salem and Associates actually began as Dr. George Salem and one assistant waiting for the phone to ring.
Since then, the growth of our practice and the advancement of the technology that we utilize have proceeded at a rapid pace. At every quantum leap in technology, we have researched these advancements and incorporated them into our practice. Likewise, we have provided ever higher levels of patient comfort and conveniences along with these advancements in hard technology. We have never forgotten that it is the human touch that is most important at all times.
As we were found by increasingly greater numbers of patients, we added multiple specialists to provide the highest level of care to our patients under one roof. When dual income families became the norm, we added evening and Saturday appointments so that our patients would not have to miss work to have access to excellent dental care. Dr. Salem always believed that every patient should thoroughly understand their dental condition, the treatment options available and the expected results before any treatment was undertaken. So we added intra-oral fiber optic cameras in every treatment room so that we can display clear images of each of our patient's own teeth on high-resolution monitors for their observation. When implants became a viable and in fact, superior method to replace missing teeth, we began providing the surgical placement of implants as well as the restoration of implants, all within our practice.
Our practice continued to grow as patients found the combination of our exceptionally high quality of care, extraordinary patient comforts and meaningful conveniences truly unique. Indeed, within six years of beginning our practice, we had grown into the top 1% of all practices in the nation with respect to the size of our patient following and the number of procedures we completed. Presently, we are responsible for the oral health of over four thousand families and we are intensely committed to providing highly personalized oral health care to each and every one of them. To this day, Dr. Salem himself will call patients back to discuss their questions and concerns if they so desire. All of our doctors abide by this personalized type of doctor-patient relationship so uncommon in today's world.
Dr. Salem and our staff have grown right along with the advancements of our practice. If you read Dr. Salem's biography in the About Us page of this web site you can understand his commitment to constantly staying on the cutting edge of dental care. Dr. Salem has taught hundreds of Tufts dental students, lectured to dentists and patient groups, published over a dozen articles in national and international dental journals, invented and patented a dental device and has served as a consultant to national corporations both inside and outside of dentistry. He continues to serve the public with public service activities such as providing Toothprints® to hundreds of children free of charge.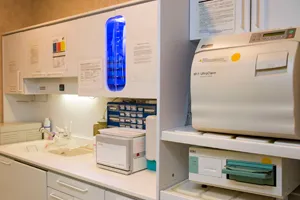 We are fortunate to have the services of several board certified specialists within our practice. Board certified specialists have completed the study of voluminous academic and clinical material and undergone intense testing beyond the normal specialty training to emerge as leaders within their respective specialties. These high level specialists provide an exceptional service to our patients.
The advancement of our practice for the benefit of our patients will never cease. For example, we now utilize digital x-rays as they reduce radiation by as much as 90% while providing much greater diagnostic information for our doctors as well as more understandable images for our patients. Recently, we began utilizing one of the first surgical dental microscopes in the region for various procedures where high-level magnification can enhance treatment success.
Corporate America has also contributed to the advancement of oral health care and we as a practice have embraced these advancements for the benefit of our patients. Examples of these advancements are BriteSmile® in-office teeth whitening, LifeLike® at-home tray whitening, Lumineers® porcelain veneers, Invisalign® invisible orthodontics and Nobel Biocare® as well as 3i® implant systems.
The future will undoubtedly provide ever better methods, materials and techniques for dentists to utilize. Our practice is committed to providing these advancements for the benefit of our patients and our community.
Our Philosophy
Our practice was built upon a very simple philosophy:
Provide the most modern and personalized dental care
For children and adults
By a warm and caring staff
In a warm and professional atmosphere
Every aspect of our practice, from the physical structure of our facility, to the dental materials and procedures that we utilize, to the staff members that we employ, to the continuing education that we devote ourselves to, has this objective as our guiding principle. We are committed to carrying this out every day, for every patient and every procedure.
We are committed to adding new treatment modalities as they become available and well researched. For example, we added dental implants to our treatment resources over thirty years ago, making our practice one of the most experienced practices in the country for placing and restoring dental implants. Invisalign invisible orthodontics are provided in our office by our Orthodontist, Dr. Michael Kacewicz, who has the distinction of being in the top 1% of all Invisalign dentists with respect to the number of Invisalign cases he has completed. As soon as dental whitening studies demonstrated effective and predictable results that were safe for both teeth and gums, we immediately provided this treatment to our patients. That was over twenty years ago and since then we have completed thousands of successful whitening procedures for our patients.
We are here not only to restore and maintain what nature gave you… strong teeth, healthy gums and a bright, attractive smile; but also to educate our patients and our community in order to prevent future dental problems. We spend a great deal of time with each and every patient educating them on proper homecare to them the best chance of stable, long term oral health.
Lastly, we feel strongly that we should be accessible to our patients and our community… not only geographically but also by our hours of operation. We have always provided early morning and evening appointments for our general dentists, hygienists and even our specialists. Financial accessibility is no less important and we have never lost sight of this. Therefore we accept most insurances and have many financing options available.